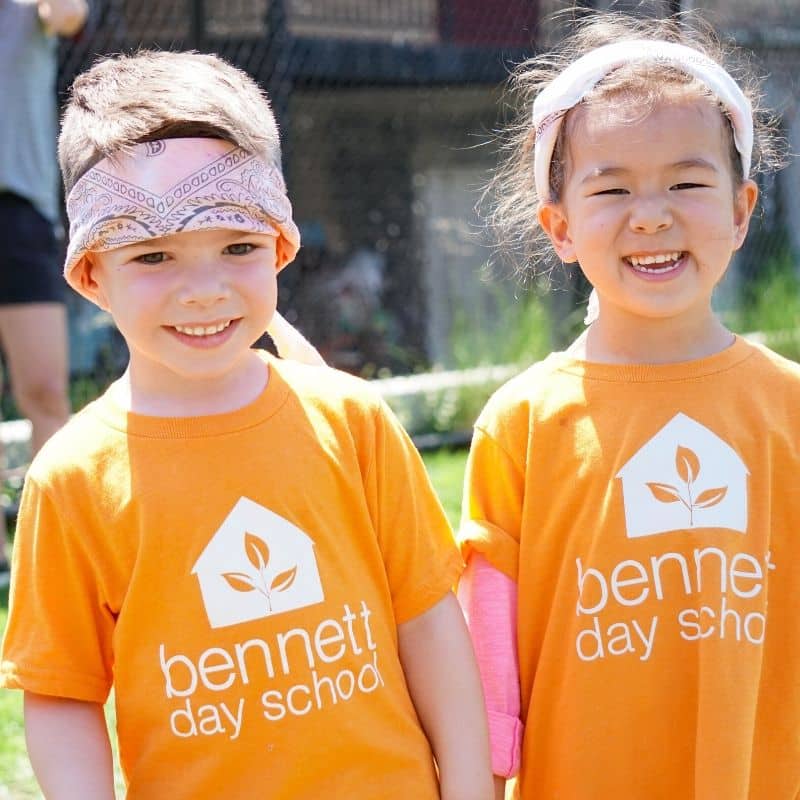 What makes Bennett Day School different? We believe that everyone who works in our school, including teachers, staff, building custodians, and administration, impacts the lives of our students and helps shape our community. Here, we're all educators.
Kate Cicchelli
Co-founder, Principal, Chief Academic Officer
Read Full Bio
With fifteen years of education experience and a passion for all things pedagogy, Kate joins Bennett Day School as the Principal of our first school and Chief Academic Officer, directly responsible for the development and implementation of our curriculum.
Kate was a teacher leader at the Francis W. Parker School before joining Bennett Day School.  At Parker, she has served on the school's Corinthian Council in both elected and appointed positions. This school body is heavily involved in administrative activities related to staff professional development, admissions, hiring, and various school-wide initiatives.  Kate has also served as the Faculty Advisor responsible for program curriculum and coordination for Morning Ex, an assembly program held three times per week for JK-12 students to demonstrate their knowledge and skills for the entire school.  The Board of Trustees at Parker counted on her to serve as their Lower School Representative, attending and reporting at board meetings and, in turn, sharing with the faculty issues of importance from board meetings. In her classroom, Kate created compelling and engaging curricula for her students, and believed in building strong relationships with other teachers, school members, and her students' families. Interested in opportunities to improve and innovate her curriculum, she was at the vanguard of efforts to utilize a math curriculum developed in Singapore, recognized by the Programme for International Assessment (PISA) as a leader in global education.
Prior to Parker, Kate worked in preprimary through intermediate classrooms in teaching and leadership roles at North Shore Country Day School in Winnetka, Illinois and the Park West Cooperative in downtown Chicago.  As an educational consultant, Kate has been involved with a wide variety of local, national, and international projects addressing topics ranging from school design and community leadership to curriculum development.  Her projects have included curriculum consulting at schools in West Africa and Central America.
Kate has served as a visiting evaluation team member on multiple occasions with the Independent Schools Association of the Central States (ISACS) for schools completing their accreditation processes.  Kate holds an M.Ed in Educational Leadership from the University of Illinois, a B.A. in English from Kenyon College and is an alumna of the Francis W. Parker School.
Cameron Smith
Co-founder, Chief Executive Officer
Read Full Bio
Cameron was inspired to create Bennett Day School after the birth of his first son in 2010. As a new parent, he recognized that there are very few options for progressive independent schooling in Chicago.  Many parents resort to moving to the suburbs when they would prefer to continue to live, work, and learn downtown.  Both the motivation to innovate and a commitment to the city inspired the creation of Bennett Day School.  Cameron was thrilled that his oldest son was a member of our first JK class in 2014; his younger son will soon be in PreK as well.
Cameron served on the Board of the Namaste Charter School where he was the Treasurer and Chair of the Investment Committee.  A licensed attorney in Illinois, he is a member of the Education Law Committee of the Chicago Bar Association.  As a member of the North American Reggio Emilia Alliance, Cameron is energized by the ideas and best practices he observes as a regular participant at educational conferences and gatherings.
Cameron was previously a Vice President at private equity firm CHS Capital LLC in Chicago where he focused on investing in education and healthcare services companies.  While at CHS, he served on the Board of Royall & Company, the leading provider of strategic enrollment marketing services to traditional colleges and universities.  He currently serves on two external boards, and previously served on the non-profit Neighborhood Parent Network of Chicago (NPN) board. Cameron is also a member of the Chicago Chapter of Conscious Capitalism.  He holds a B.S. degree from the Wharton School of the University of Pennsylvania as well as J.D. and M.B.A. degrees from Northwestern University. 
Cameron is fascinated with outer space, and as a lifelong learner, is currently pursuing a Master's Degree in Space Resources while studying Astrophysics with the Colorado School of Mines. He will be the first licensed attorney in the United States to earn this degree and is excited to share what he learns about space with our K-12 students at Bennett Day.
Jerry Nardella
Director of Finance, Administration, and Strategy
Read Full Bio
Jerry Nardella will be serving as the new Director of Finance, Administration, and Strategy. Most recently, Jerry was the Vice President of Finance and Operations at Everywhere Wireless, and prior to that at MyFootPath. Formerly, Jerry owned and operated a school in Italy. He received his MBA from Northwestern University and BS degrees in Computer Science and Chemical Engineering from the University of Illinois.  He is also a Certified Management Accountant.  In his spare time, he enjoys skiing, teaching children to ski, and growing vegetables in his Bucktown garden.
Meg Fitzgerald
Assistant Principal, Director of Early Childhood (PreK-SK)
Read Full Bio
With a strong love for early childhood education and a passion for best-practice teaching, Meg returns to the Bennett Day School as the Assistant Principal.
Meg earned a B.S. in Early Childhood Education from DePaul University. Having spent five years teaching both three- and four-year-old preschool at a local parochial school, she stepped into the administrative role of Early Childhood Coordinator in 2011 at the Immaculate Conception School in Chicago. Meg joined Bennett Day in 2013 as a Founding Teacher and taught PreK for two years and served as the Curriculum Coordinator. Wanting to deepen her foundation and understanding of early childhood learning and growth, Meg completed her Master's degree in Child Development with a specialization in Administration from Erikson Institute in the spring of 2015. She was the Director of the Early Childhood Campus from 2016-2018 and is thrilled to continue her administrative work with PreK- First Grade students and families in the coming school year. 
Jackie Miller
Director of Intermediate School (1-7)
Read Full Bio
Jackie brings over a decade of educational experience in the intermediate grades. Prior to Bennett Day, she served as Principal of the 4th-8th Grade campus at the Frances Xavier Warde School (FXW) before becoming the school's Director of Curriculum and Instruction for their entire K-8th Grade program while overseeing two campuses. During her leadership tenure at FXW, Jackie led a successful rollout of a new math curriculum with a philosophy rooted in growth mindset; content designed around the Singapore model of teaching through problem-solving; and reflective instructional practices based on components of the Japanese model of Lesson Study. Her work has also focused extensively on middle school math and integrated STEM instruction.
Jackie is a S.E.E.D. (Seeking Educational Equity and Diversity) facilitator and has presented at conferences on fostering collaborative communities, shifting mathematical mindsets, and standards-based grading. She has served as a visiting evaluation team member for the Independent Schools Association of the Central States (ISACS) for schools completing their accreditation review process. Jackie sits on the SIBS Board at Misericordia Heart of Mercy. She started her career as a fourth grade teacher and is passionate about collaborating with faculty and families to enhance the learning experience for every student. Jackie is a graduate of Indiana University where she earned her Bachelor's degree in Elementary Education. She also holds a Master's degree in Education in Reading from Loyola University.
Martin Moran
Director of Upper School (8-12)
Read Full Bio
Martin received a B.A. in History at the University of Illinois-Chicago and an M.A. in History of Counterterrorism and Counterinsurgency at DePaul University. For five years, he served as an educator and technology developer at Evanston Township High School. He then worked as a history teacher, technology staff developer and curriculum team leader at Francis W. Parker School. He was charged with creating a new 9th and 10th grade World History curriculum from scratch which included authoring a text for the course. In 2011, he became the director of the Parker Summer School for Teaching and Learning, an experimental summer school built around the philosophies of progressive education. At Parker, he helped design the TIDES program, a concrete effort to maximize the tools (technology, design, entrepreneurial skills) of the 21st century to provide students with learning experiences that make them impactful, socially conscious leaders in a globalizing world. In addition, he coordinated a redesign of learning spaces at Parker, helped develop the long- and short-term technology plans, oversaw a 1:1 Middle School iPad program, a 2:1 Upper School laptop/iPad program, and the development of mobile and stationary technology centers throughout the building.
Martin has presented at numerous conferences, sits on the board of South by Southwest EDU, and was recognized by the National Association of Independent Schools as a "Teacher of the Future."
Cally Vevers
Director of Auxiliary Programs
Read Full Bio
Cally Vevers has spent the last decade working as a Coach, Youth Program Developer, and Camp Director. While attending UIC she began coaching with Lil Sluggers and found her passion for working with children. After coaching with several programs, she became the Youth Program Director at the Northbrook Accelerated Center where she developed after-school programs, camps, and leagues with a sport and STEAM focus. Cally has now turned her attention to consulting with the hopes of creating safe and fun youth programs across Chicago.
Kei Milbrook
Director of Operations
Read Full Bio
A mother of two and daughter of an educator, Kei has always valued the importance of education and an ingrained love of learning. Having grown up in Glenview, Illinois and leaving to attend boarding school for two years, Kei returned to Illinois, attending Northwestern University.
Kei comes to Bennett Day with experience in accounting, customer service, account coordination, management and analytics. Her diverse industry knowledge gained from working for a small healthcare business consulting firm to a major international communications company, has given her varied experience and perspective. Kei is a self described organizational and efficiency zealot loving most to bring order to chaos while utilizing her time wisely which she has found increasingly more difficult with two teenagers at home. Her mother taught her to always seek to leave the somewhere better than when you got there. Kei has been involved in her children's school PTA, and has participated in and organized multiple small charitable events for her previous employer.
Laura Maheshwary
Director of Enrollment (PreK-2)
Read Full Bio
Laura Maheshwary comes to Bennett Day School after wearing a number of hats in education. She possesses a B.A. in Journalism from the University of Massachusetts at Amherst and a MFA in Creative Writing from Lesley University. Most recently, Laura served as an education consultant in the Chicagoland area and sat on the board of Park West Cooperative Nursery School. While working at area non-profit, Christopher House, Laura visited Reggio Emilia on a study tour, and became passionate about the Reggio approach. This is one of many aspects that excite her about Bennett Day School. Laura also worked as an education reporter throughout the country documenting what made successful schools excel, while others struggled during the advent of No Child Left Behind. She later transitioned into teaching and then non-profit administration working in public and private schools in Boston, New York, and Chicago. She lives with her husband and two girls.
Stephanie Castrounis
Director of Enrollment (3-12)
Read Full Bio
Stephanie studied History and Political Science at McGill University in Montreal, Canada, which is also where she is from. She then spent two years teaching English in San Luis Potosi, Mexico where she developed her love of education and achieved her goal of becoming fluent in Spanish. After returning to the U.S., Stephanie earned a Master of Arts in Teaching at Marian University in Indianapolis.
Stephanie spent seven years teaching in both public and private schools in Indianapolis. In 2013, when she and her husband moved to Chicago, she decided to step out of the classroom and took the role of Director of Admissions at Josephinum Academy of the Sacred Heart in Wicker Park. After four years working in that wonderful community, she decided to take on a new challenge and accepted the position of Director of Enrollment (3-12) at at Bennett Day. In her spare time, Stephanie loves to cook, travel, read, and watch sports.
Dr. Kelly Page
Director of Bennett Labs
Read Full Bio
A social and digital innovator, entrepreneur, educator and learning consultant, Kelly has a PhD in the Psychology of Web Knowledge and an obsession with social digital storytelling. She has over 18 years experience working at the intersection of social innovation, social design and learning of mediated social experiences for Startups, Universities, Schools and School Districts, to Fortune 500 companies. She believes that at the heart of innovative and entrepreneurial thinking is creating truly social cultures, organization, and leaders.
Her work has been published in leading peer-reviewed academic business, education and technology journals, such as Journal of Business Research, Studies in Higher Education, Computers in Human Behavior, International Journal of Interactive Marketing, International Journal of Human-Computer Studies, Psychology & Marketing, Behavior & Information Technology …. and been featured in The New York Times, Fast Company, Wall Street Journal. Her work has received awards from IDMA and a BIMA – Best in British Digital. Kelly is regularly invited to speak on topics such as Social Leadership, The Art of Social Media and Women in Business, Technology and Leadership. A member of the TEDx community, Kelly has served as social media consultant and speaker coach for TEDx. She has spoken at TEDx, Ignite and Pecha Kucha, locally and internationally and opened TedxCardiff with her talk: "Rediscovering Friendship." 
Kelly served as the Chief Innovation Officer (CIO) and Research Fellow in Residence (2017-2019) at the Illinois Mathematics and Science Academy (IMSA), and is founder of the social design studio, Live What You Love, LLC. She also serves as a team lead consultant for the Arts and Business Council (A&BC) of Chicago.
J. Michael Locke
Managing Director, Giles Richard
Read Full Bio
J. Michael Locke is the Managing Director of Giles Richard LLC, an education advisory and investment firm.  The son of a school teacher from Decatur, Illinois, he is a graduate of Harvard University Law School, Northwestern University's Kellogg School of Management and DePauw University.  Michael has been a senior executive and investor in four businesses involving technology and education. Most recently, he founded and served as Chief Executive Officer of Rasmussen, the parent organization of Deltak edu, Rasmussen College and Collegis Education, from 2003 through 2013.  He has also worked as an investment banker at Montgomery Securities and attorney at Sullivan & Cromwell.
Michael currently serves on the Board of Directors of Collegis Education, the Cancer Research Foundation, and the Graham School of Professional Studies at the University of Chicago. He is an Education Technology Advisor to OCA Ventures and has also been appointed to the American Academy Commission on the Future of Postsecondary Education.  Michael and his wife Heather are the proud parents of Skip, Cate, Caroline, and Graham.
Cyrus Patel
CEO, Scholar Partners
Read Full Bio
Cyrus Patel brings considerable operations and strategy experience to his role as an advisor to Bennett Day School.  He has experience in education, consumer products, healthcare, distribution and manufacturing and has built a reputation for leading committees and boards through growth.  He previously served, as part of the Sterling Partners Accelerator program, as the Vice President of Strategy and Business Planning for the Meritas Family of Schools, a network of college prep schools serving over 11,000 students worldwide.  In this role, he worked directly with the CEO of Meritas to drive operational and strategic change throughout the organization and created a strategy and business planning department that managed all strategic planning, pricing, budgeting, forecasting, and capital planning functions.
Prior to Meritas, he worked for Marakon Associates, a premier management consulting firm.  He is currently the CEO of Scholar Partners, a group purchasing organization that he founded to aggregate purchasing power for independent and charter schools.  Cyrus earned a B.A. in Economics and Government from Cornell University and an MBA from the Kellogg School of Management.
George Fogel
Chief Executive Officer, Premier Early Childhood Education Partners
Read Full Bio
Mr. Fogel has over 25 years of education services, operational, and development experience. Prior to becoming CEO at Premier Early Childhood, Mr. Fogel served as Strategic Advisor to the CEO at Bennett Day School. Before that, he held senior positions with Rasmussen College and Deltak, a leader in online higher education partnership and technology solutions. Mr. Fogel holds an MBA from The Booth School of Business at The University of Chicago and a BA in Economics from DePauw University.
Gail Ward
Founding Principal, Walter Payton College Preparatory High School
Read Full Bio
Gail Ward, the Founding Principal of Walter Payton College Preparatory High School, is rejoining the board after being with Bennett Day in the very beginning. She recently ended her board term at Chicago Public Schools where she also served earlier as their Chief Officer for Principal Preparation and Development. Gail is also a board member of the Chicago History Museum. With nearly 40 years of experience as a teacher, counselor, and principal, she is thrilled to once again share her insight and expertise with Bennett Day in this exciting time of growth.
Betsy Morton
Chief Human Resources Officer, Visual Comfort Group
Read Full Bio
Betsy has been a Chief Human Resources Officer for over 15 years in global consumer products, manufacturing and retail organizations including with the Visual Comfort Group, Chamberlain Group, Inc., and Jockey International. She is known for making a positive impact on the business in which she works by integrating effective and innovative human capital and business strategies. She is a national board member of Camp Kesem, which provides camp experiences for children whose families have been impacted by cancer. Betsy holds her BS from the University of Wisconsin, Madison and her M.Ed from Loyola University where she majored in Adult and Corporate Education and minored in Organizational Development.
Patrick Branham
Senior VP and CFO, Collegis Education
Read Full Bio
Patrick Branham is Executive Vice President and Chief Financial Officer (CFO) at Collegis Education, which provides sophisticated enrollment and technology solutions to post-secondary institutions.  As an advisor to Bennett Day School, he brings experience with high growth organizations spanning finance, accounting, human resources, legal operations, and more.
Before joining Collegis, Patrick served as CFO of Aftermath Services LLC and Rasmussen, Inc., which owns and operates Rasmussen College, a regionally accredited private college.  Previously, he was a Senior Manager in the Transaction Advisory Services group of Ernst & Young focused on the education sector.  A Certified Public Accountant (CPA), he holds a Bachelor's degree in Accounting from Illinois State University and an MBA in Finance and Accounting from The University of Chicago Booth School of Business.
Colin Reynolds
Learning Curator and Education Advisor
Read Full Bio
Colin is a founding teacher, administrator, and TinkerLab Curator of Bennett Day School and is currently serving as a Learning Curator and Education Advisor.  With more than ten years of experience as a classroom teacher and administrator, Colin strives to design educational programs and constructionist learning environments that center on experiential co-creation and learning.  As a graduate of Valparaiso University and Loyola University Chicago, he is an educator dedicated to the utility of technology as a tool to harvest, document, and advance learning experiences.
Ashley Cadwell
Education Consultant
Read Full Bio
Ashley is the co-founder of
Cadwell Collaborative
, an education consulting group focusing on sustainability education and school design. With 30 years experience in the field, his work has helped pioneer best practices in school throughout North America and abroad.
Ashley is deeply connected to both progressive education and the schools of Reggio Emilia, Italy. He believes in school building design that fosters the curricula and community of a school. Ashley's expertise includes integrated, multidisciplinary curriculum development; faculty collaboration and leadership; parent and community involvement; and building and school renovation and design. Ashley earned a Masters in Literature from Middlebury College and a Masters in Education Administration from the University of Vermont.
Bill Spruce
Principal, JABRY Consulting
Read Full Bio
Bill Spruce has worked in K-12 education since 1997.  As a partner in The North Broward Preparatory School in Florida, Bill was part of a small group of dedicated educators and business people who grew the small K-8 prep school from 300 students to more than 1,500 students in seven years.  Responsible for the day-to-day operations of the school, Bill oversaw the land acquisition, design and construction of a new 70-acre campus.  In 2005, North Broward became part of the Meritas Family of Schools formed by Sterling Partners, and Bill joined as Senior Vice President of Real Estate and Development.   Meritas grew to ten schools in four countries with more than 11,000 students.
In 2013, Bill left Meritas and started his own consulting firm, JABRY Consulting, to help schools and school groups develop and implement their growth and expansion plans.  Starting his career as an attorney, Bill is a member of the Florida Bar.  Prior to North Broward and Meritas, Bill worked as an attorney for Transportation Financial Group (TFG), a holding company of transportation and insurance companies, where he then served as a member of the Board of Directors.  He earned his B.A. in Politics and History from Curry College and his J.D. from The Thomas M. Cooley Law School.  Bill offers extensive experience in real estate and school development as an advisor to Bennett Day School
Carol Montag
Executive Coach
Read Full Bio
Carol is a progressive educator and Certified Professional Coach with over forty years of independent school experience as a teacher, administrator and mentor. For more than two decades as a Lower School teacher at the University of Chicago Laboratory School, she served on the first grade writing team for Everyday Mathematics. She has also headed two progressive independent schools and served as an interim head for a third, mentored for the NAIS Aspiring School Heads, and served on evaluation teams for ISACS, Florida Council for Independent Schools (FCIS), Association of Independent Maryland Schools (AIMS), and the North Dakota Study Group (NDSG).
She has extensive experience with curriculum development, evaluation, professional development, school expansion and site analysis, and Head of School search committees. She is also currently Secretary of the Board of Mostly Music Chicago and coordinator of its outreach program, a member of the Guild of the Chicago History Museum, a member of the University of Chicago's Women's Board, a long-standing member of The Arts Club of Chicago, and an active member of other civic committees.
Jie-Qi (Jackie) Chen
Professor, Erikson Institute
Read Full Bio
Jie-Qi has worked in early childhood classrooms in both China and the United States. For more than 20 years she has contributed to teacher professional development efforts in Boston and Chicago Public Schools. Currently, she serves as the principal investigator for the Early Mathematics Education Project at the Erikson Institute.
A Fulbright Senior Specialist and an applied child development specialist, Jie-QI's work focuses on cognitive development, multiple intelligences theory, classroom assessment, early mathematics education, and school-based intervention. She authored the multiple intelligences entries for The Encyclopedia of Education (2nd ed., 2002) and for The International Encyclopedia of Early Childhood Education (2007). Her work also includes assessment and curriculum development for Head Start programs and several books on Multiple Intelligence in collaboration with Howard Gardner. Jie-Qi has a Ph.D. in Applied Child Development from Tufts University, a MA in Early Childhood Education from University of Northern Iowa, and a BA in Child Development and Early Education from Beijing Normal University.