A school is a place for students. But a school community is much bigger, richer, and more inclusive.
The community of Bennett Day School is comprised of students, faculty, families, and neighbors. Our curriculum includes the intentional fostering of neighborhood and citywide connections, helping students develop a sense of community beyond their homes and classrooms. Our
mission
to develop lifelong learners and leaders begins at home and school, but also extends to our local community, the city at large, and ultimately the global community.
Diversity Statement
A rich and diverse school population helps assure that children and their families develop a habit of mind that accounts for different life experiences and points of view. Bennett Day School embraces that idea and welcomes a community made up of all definitions of family: married, single gender, single parent, adoptive, blended, and divorced. In addition, we can do our best work when the many nationalities, religions, ethnicities, and socio-economic levels that the city has to offer are reflected in our community too. Our school strives to embody the rich diversity of the greater Chicago-area, extending our welcome to families throughout the city and beyond.
Our inclusive curriculum grants children a perspective different from their own, a critical component towards developing into a compassionate citizen of the world. Bennett Day School's programming, classroom discussions and materials, library books, thematic studies, art, music, and movement work all allow for the celebration of our families' stories and traditions as well as those of the global community.
Bennett Day School values, respects, and benefits from the individual identity of each student and community member, regardless of age, ability, gender, race, religion, sexual orientation, ethnicity, or socio-economic status. As a community of families, Bennett Day School expects all faculty, staff, administrators, parents, and caregivers to embrace and foster this inclusiveness.
A Founder's Story
by Cameron Smith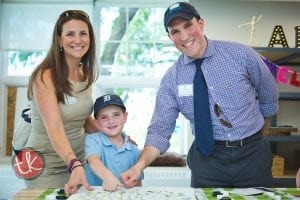 CEO & Co-Founder of Bennett Day School
Bennett Day School was just a dream when my wife and I became parents a few short years ago. We had started thinking about our son's education long before he was born, and as we discussed our future, we knew we wanted to continue to live and work in downtown Chicago so that the diverse resources of this world class city would be at our doorstep.  But like many Chicagoans, we wondered whether that would be feasible with school-age children.
We had heard urban legends about getting onto waiting lists for Chicago independent schools while children were still in the womb.  Was that really true?  Despite this undoubtedly competitive process, we began to wonder if any school, public or independent, charter or parochial, would even offer the kind of education we wanted for our son and imagined other parents wanted too.  And if that school didn't exist, what would we do?
Inspirations & Philosophy
While reflecting on my own education, my thoughts turned warmly to my time in business school at Kellogg.  There, the process of learning was about creative problem solving, project-based inquiry, collaboration, and teamwork.  I wondered if that type of learning experience existed for younger students.  The first people I thought to ask were my mother and sister, both elementary school teachers, who helped me begin to study the various forms of PreK-8 education.  I then dedicated myself to a broad exploration of forward-thinking educational organizations from around Chicago and the world.
I quickly found that top students in the United States rank far behind their peers in countries like Singapore and Finland.  If we are not doing enough to nurture and encourage the natural talents of our high achievers, we must adapt more readily like the schools in these education-rich societies do.  The standard U.S. school model, rooted in the industrial factory age, hardly represents a progressive PK-8 learning environment.  I learned about an alternative approach developed in Italy, the Reggio Emilia philosophy, which emphasizes key life skills like inquiry, innovation, teamwork, resilience, perseverance, and critical thinking.  This approach reminded me of my experience at Kellogg!  Google, a company known for being responsive and continually evolving, embraces this philosophy in its early childhood centers and their commitment to innovation and creativity.
During my initial exploration of Reggio Emilia, a Newsweek article highlighted long term research that showed how students with a high Creativity Quotient (CQ) are three times as likely to become entrepreneurs, doctors, inventors, college presidents, authors, diplomats, software developers, and other successful, innovative professionals.  More and more, we are learning that professional success has less to do with IQ and more to do with habits of mind and CQ.
But creativity is rarely, if ever, considered in conventional academic measurements.  The IQ test, developed over a century ago, can't factor in what we now know about our brain's Multiple Intelligences, following groundbreaking research from Howard Gardner of Harvard University.  Creativity can be learned, cultivated, and observed.  How can we foster the growth of the next Bill Gates, Marie Curie, or Steve Jobs?
We need more great schools, particularly in Chicago.  After all our research, we felt even more confident and excited to create a unique place like Bennett Day School to help children find, discover, and explore their passions by incorporating best practices from around the globe.  Our children deserve the chance to be innovators, entrepreneurs, and agents of change — to better themselves and their world.
In bringing these philosophies to life in a single school, we thought, why not innovate further?  To us, world languages also include computer language.  Moreover, we created a schedule that provides our faculty with time and space to: collaborate, share best practices, reflect, and document the type of learning that is predictive of future success but cannot easily be tested with pen and paper.  This crucial activity occurs weekly, therefore student class time concludes with a half-day on Fridays.  This same time allows our students to explore new ideas and places both at our school in our TinkerLabs and outdoor green space as well as in the city as a classroom with family and friends.
Bennett Day School offers time and space for students to follow their passions while also ensuring a rigorous, comprehensive education in all key disciplines.
In Conclusion
It can be daunting to try something new, especially when it impacts your family and your child's future.  But it is also the chance for magic to happen.  My children's education is too important, as is that of your own children, to simply hope things get better or to risk betting on a waiting list.  Through bold action, thoughtful leadership, community support, and commitment to our vision, Bennett Day School is now an incredible place for my children and yours alike.  Just like any parents, my wife and I want a school that will support our children academically, emotionally, and creatively.  A school dedicated to building community, fostering innovation, attracting the best teachers, and producing innovative, forward-thinking scholars.  In pursuing their natural love of learning, Bennett Day School students will change the world.  That is what education is meant to accomplish.