Bennett Labs is a learning innovation and development lab embedded in the life of Bennett Day School. We are committed to advancing creativity and innovation in child, family, and educator learning experiences.
Our mission is to uncover and advance creativity and innovation in learning, and to create learning experiences that foster the development of lifelong learners and leaders.
 
We work in collaboration with design, learning, and technology partners and are committed to all learners as co-designers in the learning experience. 

We believe creativity and innovation occur naturally and collaboratively between people, and to the sharing of learning innovations with the world.

We accelerate family, adult and educator learning, connect innovators and incubate creations through a progressive approach to learning and social design.
Osmo Kaleidoscope App
Explore, design, and discover with Osmo Kaleidoscope. This unique app lets you bring your own objects, tangibles, and collectibles to playful Osmo learning! Kaleidoscope can be revisited often, whenever you want to explore new seasonal items from nature or fun things of personal interest to you. 
Osmo Kaleidoscope was co-designed by children and educators at Bennett Day School who wanted a new type of digital kaleidoscope for open-ended exploration that could be hands-on, kinesthetic, and collaborative. Students in PreK and JK assisted with user testing and interface design while 5th graders computer programmed special effects in Python. We worked closely with an engineer who we met through our lab school partnership with Northwestern University.
Check out this blog: "Kids Co-designing for Kids: 7 Hands-On Explorations with Osmo Kaleidoscope"
Story Dealer Card Game
Released at the 2017 Chicago Toy and Game Fair, Story Dealer is a card game that inspires open-ended tales in the themes of Science, Technology, Engineering, the Arts, and Mathematics.
Story Dealer was co-designed by children and educators at Bennett Day School to build creative thinking, storytelling, speaking, and listening skills.
Tinkering Around eBook Series
The Tinkering Around book series encourages open investigation and practical problem-solving. We invite children and families to read along, build their own TinkerLab at home, and to tinker at home with tinker trays, numbers, invent drawing tools, engineer a spacesuit, create ramps, build a robot, and more.
The Tinkering Around book series was written by Frances Judd and illustrated by Ari Krzyzek.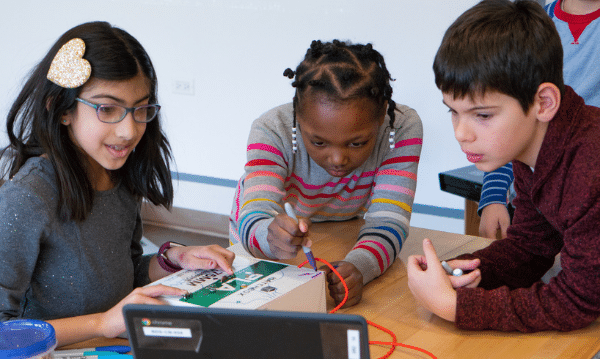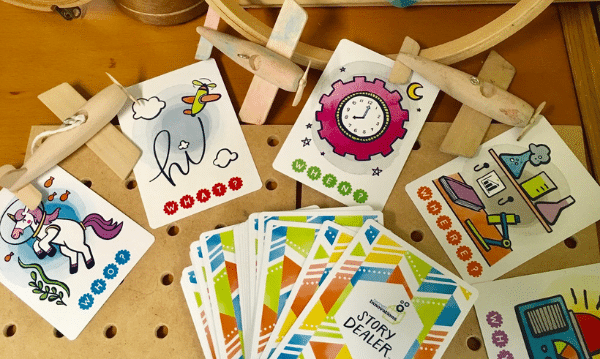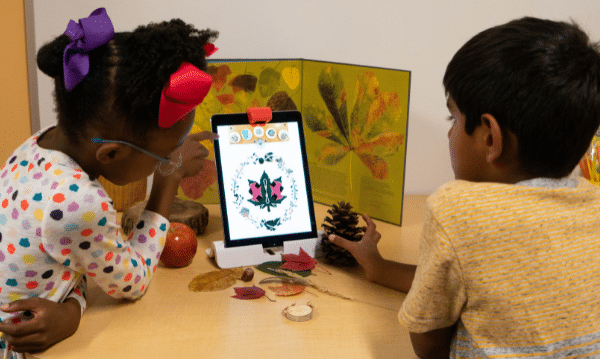 A Letter from Frances Judd…
As a Bennett Labs Fellow and Early Childhood TESLab/Art Teacher, I witness how items being developed through Bennett Labs percolate from our inspired and inspiring learning environments. Within the diverse and dynamic pool of ideas in this innovative culture, moments tend to arise that point directly toward a need for new products that could be designed to enhance teaching and learning opportunities. The innovation and development pathways at Bennett Labs tend to come from a broad-based synergy with ties to numerous corners of our Bennett Day community.
The portfolio of Bennett Labs Creations contain items that can help us achieve Bennett Day School's ambitious mission and our deeply held values. For example, because our tenets of progressive education include experiential learning and social responsiveness, it's understandable that we are producing items to help make learning active, engaging, empowering, multicultural, and collaborative. Because we hold firm commitments to authentic documentation of student learning, then it's quite reasonable that we are creating well-designed tools to foster and enhance that work.
In all aspects of Bennett Day, we are guided by a mission to advance innovation, creativity, leadership, and lifelong learning. This mission can also be seen in the manner in which we support university research; we facilitate multigenerational learning teams with students young and old. We think that life in our school can and should include graduate-level design work and product development with outreach to other schools.
By providing avenues for innovation, research, and development, we hope to live in the very teachings that we offer students each day.

 Frances Judd
 Bennett Labs Fellow
 Early Childhood TESLab/Art Teacher