When:
May 18, 2019 @ 10:00 am – 11:15 am
2019-05-18T10:00:00-05:00
2019-05-18T11:15:00-05:00
Where:
Bennett Day School
955 W Grand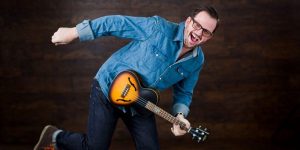 Spring is here! Join us for a celebration of song and dance!
Bennett Day School
955 W. Grand Ave.
Saturday, May 18 10:30-11:15am
Doors Open at 10am, Show begins at 10:30am
Tickets: $10 per child (Ages 1-6), Children 11 months and under are free.
Imbued with themes of love, learning, positivity and activity, Mr. Dave revs up the fun-o-meter during his live shows! Known for creating unbeatable beats, melodic elements and poetic rhymes, he'll inspire movement from the youngest to the oldest members of the family. Mr. Dave's original songs include messages around diversity, safety and acceptance plus, the catchy tunes mean you and your littles will listen to them over and over again.
Like Us and Share Our Post!